Description
HGST 4U60G2 Storage Platform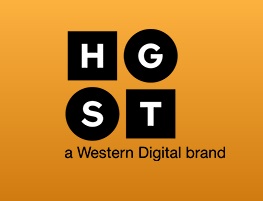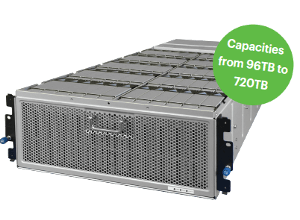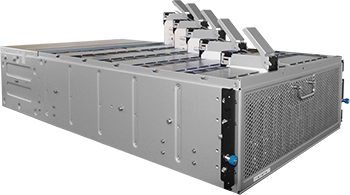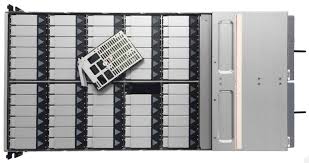 HGST part number:
HDD Interface: SAS
Sector Size: 512E
A scalable and cost-effective storage platform for data centers. With up to 60 Ultrastar® drive modules in a single platform, a 12Gb/s SAS interface, and HDD-SSD hybrid capability, this 4U platform is ideal for high-capacity storage needs.
High Density

– Up to 720TB* in a 4U enclosure

Scalable

– Supports 8 hosts per platform

Enterprise-class Serviceability

– Hot-swappable components, cable management arm
*720TB capacity is only available with the 4U60G2 platform. Availability varies by country
When data centers need storage expansion that delivers low power and high capacity with high-availability, they rely on the HGST 4U60G2 Storage Platform. This high density, scalable, and cost-effective design includes up to 60 Ultrastar® 3.5-inch drive modules in a 4U enclosure, supports up to 8 hosts with SAS 12Gb/s performance, and delivers enterprise-class serviceability with hot-swappable components.
This integrated platform is qualified, tested and certified to support a broad range of HGST HDDs. It's available with SAS drives for high-availability (HA) applications, with SATA drives for cost-optimized applications, and can be configured with up to twelve (12) 800GB SSDs to create separate performance tiers within the platform.
Please call 909-606-1111, we have Sales engineers ready to work with your projects.
Fully Populated SAS
| | | | | | | |
| --- | --- | --- | --- | --- | --- | --- |
| Capacity | Interface | Sector Size | SE | ISE | SED | Description |
| 720TB | SAS | 4KN | 1ES0216 | 1ES0215 | 1ES0217 | 4U60-60 G2 720TB nTAA |
| | SAS | 512E | 1ES0213 | 1ES0212 | 1ES0214 | 4U60-60 G2 720TB nTAA |
| 600TB | SAS | 4KN | 1ES0168 | 1ES0161 | 1ES0169 | 4U60-60 G2 600TB nTAA |
| | SAS | 4KN | 1ES0096 | 1ES0094 | 1ES0095 | 4U60-60 G1 600TB nTAA |
| | SAS | 512E | 1ES0166 | 1ES0162 | 1ES0167 | 4U60-60 G2 600TB nTAA |
| | SAS | 512E | 1ES0093 | 1ES0091 | 1ES0092 | 4U60-60 G1 600TB nTAA |
| | SATA | 4KN | 1ES0145 | 1ES0144 | 1ES0146 | 4U60-60 G1 600TB nTAA SNGL ESM |
| | SATA | 512E | 1ES0142 | 1ES0141 | 1ES0143 | 4U60-60 G1 600TB nTAA SNGL ESM |
| 480TB | SAS | 4KN | 1ES0204 | 1ES0203 | 1ES0205 | 4U60-60 G2 480TB nTAA |
| | SAS | 4KN | 1ES0033 | 1ES0035 | 1ES0151 | 4U60-60 G1 480TB nTAA |
| | SAS | 512E | 1ES0201 | 1ES0200 | 1ES0202 | 4U60-60 G2 480TB nTAA |
| | SAS | 512E | 1ES0031 | 1ES0034 | 1ES0063 | 4U60-60 G1 480TB nTAA |
| | SATA | 4KN | 1ES0083 | 1ES0082 | 1ES0084 | 4U60-60 G1 480TB nTAA |
| | SATA | 4KN | 1ES01425 | 1ES0124 | 1ES0126 | 4U60-60 G1 480TB nTAA SNGL ESM |
| | SATA | 512E | 1ES0080 | 1ES0079 | 1ES0081 | 4U60-60 G1 480TB nTAA |
| | SATA | 512E | 1ES0122 | 1ES0121 | 1ES0123 | 4U60-60 G1 480TB nTAA SNGL ESM |
| 360TB | SAS | 4KN | 1ES0198 | 1ES0197 | 1ES0199 | 4U60-60 G2 360TB nTAA |
| | SAS | 4KN | 1ES0060 | 1ES0061 | - | 4U60-60 G1 360TB nTAA |
| | SAS | 512E | 1ES0195 | 1ES0194 | 1ES0196 | 4U60-60 G2 360TB nTAA |
| | SAS | 512E | 1ES0058 | 1ES0059 | 1ES0068 | 4U60-60 G1 360TB nTAA |
| 240TB | SAS | 4KN | 1ES0056 | 1ES0057 | - | 4U60-60 G1 240TB nTAA |
| | SAS | 512E | 1ES0054 | 1ES0055 | 1ES0067 | 4U60-60 G1 240TB nTAA |
Partial Populated Configurations
| | | | | | | |
| --- | --- | --- | --- | --- | --- | --- |
| Capacity | Interface | Sector Size | SE | ISE | SED | Description |
| 288TB | SAS | 4KN | 1ES0210 | 1ES0209 | 1ES0211 | Storage Enclosure 4U60-24 G2 288TB nTAA |
| | SAS | 512E | 1ES0207 | 1ES0206 | 1ES0208 | Storage Enclosure 4U60-24 G2 288TB nTAA |
| 240TB | SAS | 4KN | 1ES0174 | 1ES0173 | 1ES0175 | Storage Enclosure 4U60-24 G2 240TB nTAA |
| | SAS | 4KN | 1ES0120 | N/A | N/A | Storage Enclosure 4U60-24 G1 240TB nTAA |
| | SAS | 512E | 1ES0171 | 1ES0170 | 1ES0172 | Storage Enclosure 4U60-24 G2 240TB nTAA |
| | SAS | 512E | 1ES0119 | 1ES0118 | N/A | Storage Enclosure 4U60-24 G1 240TB nTAA |
| 192TB | SAS | 4KN | 1ES0183 | 1ES0159 | 1ES0184 | Storage Enclosure 4U60-24 G2 192TB nTAA |
| | SAS | 4KN | N/A | N/A | N/A | Storage Enclosure 4U60-24 G1 192TB nTAA |
| | SAS | 512E | 1ES0181 | 1ES0160 | 1ES0182 | Storage Enclosure 4U60-24 G2 192TB nTAA |
| | SAS | 512E | 1ES0117 | 1ES0100 | N/A | Storage Enclosure 4U60-24 G1 192TB nTAA |
| 144TB | SAS | 4KN | 1ES0187 | 1ES0186 | 1ES0188 | Storage Enclosure 4U60-24 G2 144TB nTAA |
| | SAS | 4KN | N/A | N/A | N/A | Storage Enclosure 4U60-24 G1 144TB nTAA |
| | SAS | 512E | 1ES0192 | 1ES0158 | 1ES0185 | Storage Enclosure 4U60-24 G2 144TB nTAA |
| | SAS | 512E | 1ES0101 | 1ES0102 | N/A | Storage Enclosure 4U60-24 G1 144TB nTAA |
| 96TB | SAS | 4KN | N/A | N/A | N/A | Storage Enclosure 4U60-24 G1 96TB nTAA |
| | SAS | 512E | 1ES0103 | 1ES0104 | N/A | Storage Enclosure 4U60-24 G1 96TB nTAA |
Scale-Up SAS Modules
| | | | | | | |
| --- | --- | --- | --- | --- | --- | --- |
| Capacity | Interface | Sector Size | SE | ISE | SED | Description |
| 144TB | SAS | 4KN | 1EX0361 | 1EX0360 | 1EX0362 | Storage Enclosure 4U60 ScaleUp Module 144TB nTAA |
| | SAS | 512E | 1EX0358 | 1EX0357 | 1EX0359 | Storage Enclosure 4U60 ScaleUp Module 144TB nTAA |
| 120TB | SAS | 4KN | 1EX0298 | 1EX0297 | 1EX0299 | Storage Enclosure 4U60 ScaleUp Module 120TB nTAA |
| | SAS | 512E | 1EX0295 | 1EX0294 | 1EX0296 | Storage Enclosure 4U60 ScaleUp Module 120TB nTAA |
| 96TB | SAS | 4KN | 1EX0313 | 1EX0312 | 1EX0314 | Storage Enclosure 4U60 ScaleUp Module 96TB nTAA |
| | SAS | 512E | 1EX0310 | 1EX0309 | 1EX0311 | Storage Enclosure 4U60 ScaleUp Module 96TB nTAA |
| 72TB | SAS | 4KN | 1EX0324 | 1EX0323 | 1EX0325 | Storage Enclosure 4U60 ScaleUp Module 72TB nTAA |
| | SAS | 512E | 1EX0320 | 1EX0321 | 1EX0322 | Storage Enclosure 4U60 ScaleUp Module 72TB nTAA |
Customer Replacable Units (CRU): Drive
| | | | | | | |
| --- | --- | --- | --- | --- | --- | --- |
| Capacity | Interface | Sector Size | SE | ISE | SED | Description |
| 12TB | SAS | 4KN | 1EX0349 | 1EX0348 | 1EX0350 | Storage Enclosure 4U60 G2 CRU HE12 Drive w/Carrier 12TB |
| | SAS | 4KN | 1EX0355 | 1EX0354 | 1EX0356 | Storage Enclosure 4U60 G2 CRU HE12 Drive w/Carrier 12TB 12Pack |
| | SAS | 512E | 1EX0346 | 1EX0345 | 1EX0347 | Storage Enclosure 4U60 G2 CRU HE12 Drive w/Carrier 12TB |
| | SAS | 512E | 1EX0352 | 1EX0351 | 1EX0353 | Storage Enclosure 4U60 G2 CRU HE12 Drive w/Carrier 12TB 12Pack |
| 10TB | SAS | 4KN | 1EX0147 | 1EX0145 | 1EX0146 | Storage Enclosure 4U60 CRU HE10 Drive w/Carrier 10TB |
| | SAS | 4KN | 1EX0199 | 1EX0292 | 1EX0293 | Storage Enclosure 4U60 CRU HE10 Drive w/Carrier 10TB 12Pack |
| | SAS | 512E | 1EX0144 | 1EX0142 | 1EX0143 | Storage Enclosure 4U60 CRU HE10 Drive w/Carrier 10TB |
| | SAS | 512E | 1EX0182 | 1EX0181 | 1EX0291 | Storage Enclosure 4U60 CRU HE10 Drive w/Carrier 10TB 12Pack |
| | SATA | 4KN | 1EX0214 | 1EX0213 | 1EX0215 | Storage Enclosure 4U60 CRU HE10 Drive w/Carrier 10TB |
| | SATA | 4KN | N/A | N/A | N/A | Storage Enclosure 4U60 CRU HE10 Drive w/Carrier 10TB 12Pack |
| | SATA | 512E | 1EX0211 | 1EX0210 | 1EX0212 | Storage Enclosure 4U60 CRU HE10 Drive w/Carrier 10TB |
| | SATA | 512E | N/A | N/A | N/A | Storage Enclosure 4U60 CRU HE10 Drive w/Carrier 10TB 12Pack |
| 8TB | SAS | 4KN | 1EX0302 | 1EX0277 | 1EX0247 | Storage Enclosure 4U60 CRU HE10 Drive w/Carrier 8TB |
| | SAS | 4KN | 1EX0109 | 1EX0111 | 1EX0152 | Storage Enclosure 4U60 G1 CRU HC8 Drive w/Carrier 8TB |
| | SAS | 4KN | 1EX0307 | 1EX0306 | 1EX0308 | Storage Enclosure 4U60 CRU HE10 Drive w/Carrier 8TB 12Pack |
| | SAS | 512E | 1EX0300 | 1EX0278 | 1EX0301 | Storage Enclosure 4U60 CRU HE10 Drive w/Carrier 8TB |
| | SAS | 512E | 1EX0083 | 1EX0110 | 1EX0123 | Storage Enclosure 4U60 G1 CRU HC8 Drive w/Carrier 8TB |
| | SAS | 512E | 1EX0171 | 1EX0172 | N/A | Storage Enclosure 4U60 G1 CRU HC8 Drive w/Carrier 8TB 12Pack |
| | SAS | 512E | 1EX0304 | 1EX0303 | 1EX0305 | Storage Enclosure 4U60 CRU HE10 Drive w/Carrier 8TB 12Pack |
| | SATA | 4KN | 1EX0204 | 1EX0203 | 1EX0205 | Storage Enclosure 4U60 CRU HE10 Drive w/Carrier 8TB |
| | SATA | 4KN | 1EX0133 | 1EX0132 | 1EX0134 | Storage Enclosure 4U60 G1 CRU HC8 Drive w/Carrier 8TB |
| | SATA | 4KN | N/A | N/A | N/A | Storage Enclosure 4U60 CRU HE10 Drive w/Carrier 8TB 12Pack |
| | SATA | 512E | 1EX0201 | 1EX0200 | 1EX0202 | Storage Enclosure 4U60 CRU HE10 Drive w/Carrier 8TB |
| | SATA | 512E | 1EX0130 | 1EX0129 | 1EX0131 | Storage Enclosure 4U60 G1 CRU HC8 Drive w/Carrier 8TB |
| | SATA | 512E | N/A | N/A | N/A | Storage Enclosure 4U60 CRU HE10 Drive w/Carrier 8TB 12Pack |
| 6TB | SAS | 4KN | 1EX0121 | 1EX0122 | 1EX0315 | Storage Enclosure 4U60 CRU KP6 Drive w/Carrier 6TB |
| | SAS | 4KN | 1EX0318 | 1EX0317 | 1EX0319 | Storage Enclosure 4U60 CRU KP6 Drive w/Carrier 6TB 12Pack |
| | SAS | 512E | 1EX0119 | 1EX0120 | 1EX0126 | Storage Enclosure 4U60 CRU KP6 Drive w/Carrier 6TB |
| | SAS | 512E | 1EX0177 | 1EX0178 | 1EX0316 | Storage Enclosure 4U60 CRU KP6 Drive w/Carrier 6TB 12Pack |
| 4TB | SAS | 4KN | 1EX0117 | 1EX0118 | N/A | Storage Enclosure 4U60 G1 CRU KP4 Drive w/Carrier 4TB |
| | SAS | 4KN | N/A | N/A | N/A | Storage Enclosure 4U60 G1 CRU KP4 Drive w/Carrier 4TB 12Pack |
| | SAS | 512E | 1EX0115 | 1EX0116 | 1EX0125 | Storage Enclosure 4U60 G1 CRU KP4 Drive w/Carrier 4TB |
| | SAS | 512E | 1EX0179 | 1EX0180 | N/A | Storage Enclosure 4U60 G1 CRU KP4 Drive w/Carrier 4TB 12Pack |
| SSD | SATA | | 1EX0153 | N/A | N/A | Storage Enclosure 4U60 CRU CS SSD Drive w/Carrier 800GB |
| | SAS | | N/A | 1EX0154 | N/A | Storage Enclosure 4U60 CRU ASCD SSD Drive w/Carrier 400GB |
Cables
| | |
| --- | --- |
| P/N | Description |
| 1EX0094 | Storage Enclosure 4U60 G1 CRU Cable Expansion QSFP+ to QSFP+ 2m |
| 1EX0149 | Storage Enclosure 4U60 G1 CRU Cable Expansion QSFP+ to QSFP+ 2m 2Pack |
| 1EX0234 | Storage Enclosure 4U60 G1 CRU Cable Expansion QSFP+ to QSFP+ 3m |
| 1EX0151 | Storage Enclosure 4U60 G1 CRU Cable Expansion QSFP+ to QSFP+ 3m 2Pack |
| 1EX0085 | Storage Enclosure 4U60 G1 CRU Cable IO miniSAS to QSFP+ 2m |
| 1EX0148 | Storage Enclosure 4U60 G1 CRU Cable IO miniSAS to QSFP+ 2m 2Pack |
| 1EX0233 | Storage Enclosure 4U60 G1 CRU Cable IO miniSAS to QSFP+ 3m |
| 1EX0150 | Storage Enclosure 4U60 G1 CRU Cable IO miniSAS to QSFP+ 3m 2Pack |
| 1EX0328 | Storage Enclosure 4U60 G2 CRU Cable IO HD mini-SAS to HD mini-SAS 2m 2Pack |
| 1EX0329 | Storage Enclosure 4U60 G2 CRU Cable IO HD mini-SAS to HD mini-SAS 3m 2Pack |
Miscellaneous
| | |
| --- | --- |
| P/N | Description |
| 1EX0107 | Storage Enclosure 4U60 G1 CRU Cable Management Arm |
| 1EX0327 | Storage Enclosure 4U60 G2 CRU Cable Management Arm |
| 1EX0108 | Storage Enclosure 4U60 CRU Drive Carrier Blank |
| 1EX0174 | Storage Enclosure 4U60 CRU Drive Carrier w/Screws |
| 1EX0080 | Storage Enclosure 4U60 G1 CRU IO Module |
| 1EX0326 | Storage Enclosure 4U60 G2 CRU IO Module |
| 1EX0084 | Storage Enclosure 4U60 CRU Power Cord |
| 1EX0081 | Storage Enclosure 4U60 CRU Power Supply |
| 1EX0106 | Storage Enclosure 4U60 CRU Rail Kit Adjustable |
| 1EX0196 | Storage Enclosure 4U60-0 G1 CRU Chassis ESM/PSU ASM |
| 1EX0197 | Storage Enclosure 4U60-0 G1 CRU Chassis SNGL ESM/PSU ASM |
| 1EX0330 | Storage Enclosure 4U60-0 G2 CRU Chassis ESM/PSU ASM |
| 1EX0331 | Storage Enclosure 4U60-0 G2 CRU Chassis SNGL ESM/PSU ASM |